Please find below our poultry fencing options. Please feel free contact us to find out more.
Poultry Fencing
Poultry fencing needs to help protect against attacks from predators, the distinctive animal friendly, knotted joint of Hampton NET™ locks vertical and horizontal wires tight providing an almost impervious barrier to the most aggressive of attacks.
For added protection against foxes, Hampton NET™ has the advantage over all other steel fencing solutions with its hinged lower section. This can be angled outwards and should be buried to a minimum of 450mm below ground.
Hampton NET™ poultry fencing can also be used to retain poultry within an enclosure, or guide them to pasture.
Manufactured to BS EN 10223-5. Wire produced to BS 4102. Fully galvanised to BS EN 10244-2 Class A.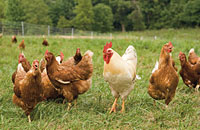 Hampton NET™ for Poultry
| | | | | | |
| --- | --- | --- | --- | --- | --- |
| Pattern | No. Line Wires | Roll Height (cm) | Distance Between Stay Wires (cm) | Standard Roll Length (metres) | Maximum Roll Length (metres) |
| HNLHT 15/160/7.5 | 15 | 160 | 7.5 | 100 | 300 |
Hexagonal Wire Poultry Netting
Available in a variety of mesh sizes and heights, Hampton's premium hexagonal wire netting is produced to meet the highest standards using the best quality wire.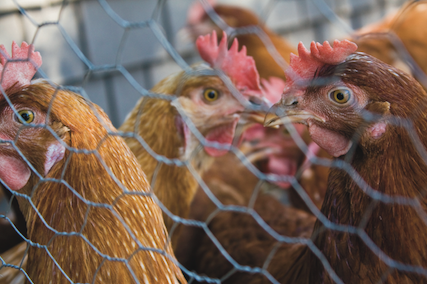 Fully Galvanised After Manufacture to BS EN 10223-2: 2012 tables 2 and 4
| | | | |
| --- | --- | --- | --- |
| Description | Height | Mesh | Wire |
| 900/19/22g | 900 | 19 | 0.7 |
| 1200/19/22g | 1200 | 19 | 0.7 |
| 1200/19/20g | 1200 | 19 | 0.9 |
| 1200/19/19g | 1200 | 19 | 1.0 |
| 600/31/19g | 600 | 31 | 1.0 |
| 900/31/19g | 900 | 31 | 1.0 |
| 1050/31/19g | 1050 | 31 | 1.0 |
| 1050/31/18g | 1050 | 31 | 1.2 |
| 1200/31/19g | 1200 | 31 | 1.0 |
| 1200/31/18g | 1200 | 31 | 1.2 |
| 900/50/19g | 900 | 50 | 1.0 |
| 1200/50/19g | 1200 | 50 | 1.0 |
| 1800/50/19g | 1800 | 50 | 1.0 |
Fully Galvanised Before Manufacture to BS EN 10244-2: Class A
| | | | |
| --- | --- | --- | --- |
| Description | Height | Mesh | Wire |
| 900/50/20g | 900 | 50 | 0.9 |