Testimonials
Versalok®️ Metal Posts, Superior Durability
"Great posts, went in easily and will certainly last much longer than wood"
Bryan George, Free range chickens, Nutts Corner, Antrim
Versalok®️ Metal Posts
'The Versalok® posts are the best posts I've ever used; I've used wooden ones for years. I'll certainly not be using wooden ones again!'
said Shamus McAlees of Rosepark Farm, Ballymoney www.roseparkfarm.co.uk
Metal Strainer Systems Take the Strain at Ringstead Island Fishery
"We were very aware of meeting the Natural England fencing specification whilst trying to be as sympathetic to the beautiful countryside surrounding our Ringstead site. The quality of Hampton's otter fencing and their metal posts is superb and the hinged top & skirting sections are a great deterrent to otters"
Ashley Hubbard, Wellingborough and District Angling Club
Hampton's Chain Link Forms Chester Zoo's State-of-the-Art Tiger Enclosure
'We chose Hampton products for a variety of animal enclosures at Chester zoo; their high quality materials, consistency of finish and unsurpassed customer service are a perfect match with the german designed, state-of-the-art specifications of the build at Chester. The fulfilment of the new tiger enclosure required months of preparation, planning and precision engineering. To have the reassurance that the chain link fencing we required to complete the project was the best on the market was imperative. We can confidently recommend Hampton Steel for their unrivalled level of service and exceptional product quality and consistency'.
David Wickes, I.P. Jones Fencing Contractors Ltd
StapleloK Metal Post and Staple System
"We have recently had Hampton Metal Posts installed on our small holding, replacing traditional wooden posts which held sheep netting in place. We found after 5 to 8 years most of the wooden posts had rotted at ground level or at the very least become loose. We were introduced to the Hampton products and decided to ask our fencing contractor and local Hampton stockist, Digory Truscott, to install the metal posts around the circumference of one of our fields used for sheep grazing (in conjunction with barbed wire and sheep netting). Several months on all of the posts have remained in place without any movement and the barbed wire and netting have not become slack. These posts will last 6 times longer than most wooden posts, and if we ever need to move the metal posts (to re instate gateways) we have the option of doing so without having to replace the posts. Our ground is sloping, (currently very wet) and clay based and the posts are firmly in place. We feel so confident in this product that we will using the metal posts (rather than electric fencing posts which can lift and bend) to install a Paddock Paradise/Horse track system to be used in conjunction with electric fencing tape. Therefore over the winter months when the ground becomes wet and muddy in places, we can adjust the areas of our fields used within the track and we feel happy enough to now install them ourselves too."
Susan Petipher & Sarah Kirk Trewidland, Liskeard, Cornwall.
Hampton Fencing
"I've been using Hampton products for about 3 years and can honestly say that the quality of the fencing and customer service is unsurpassed. Hampton NET™ has been a real winner for a lot of my customers, choosing to install this over traditional stock fencing for a variety of applications including horses. The smaller mesh sizes provides a safer option for foals and the smooth knot helps prevent any injury to the animals. Tieing off is quick and hassle free and the high tensile is almost self-supporting making it a quicker fencing solution to erect. Having the 500 metre roll options for hinge joint and or Hampton NET™ is a real labour saving benefit, these can be uploaded to the Profencer in no time at all" "I would definitely recommend Hampton's for their quality fencing products and excellent customer service"
Julian Nugus, Nugus Fencing
Deer Fencing
'I can say that after six months Hampton NET has proven itself robust and well able to withstand pressure from deer. The fencing contractor commented that it was a very good quality fence and that it had been easy to erect. We would both be happy to use this fence again.'
Dr. John Fletcher BVMS, Hon FRCVS, PhD, ARAgS, Reediehill Deer Farm, Fife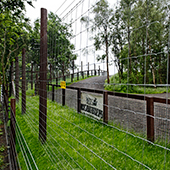 Bear Fencing
'We chose Hampton NET™ for the bear enclosure over the traditionally used welded mesh following discussions with the Highland Wildlife Park. We wanted a more natural barrier but with the same security of strength; we more than achieved this with Hampton NET™'
'The Government affiliated vet commented during his recent visit that the new Hampton NET™ enclosure rates as a world class exhibit'
Lynn McCuchie, Head Zookeeper, Five Sisters Zoo
'Hampton NET™ was far easier to erect. Aesthetically the new Hampton NET™ is far more pleasing'
Becky Scott, Zoo Keeper, Five Sisters Zoo
Horse Fencing
'Hampton's NET fencing has proved a real winner in terms of its greatly improved strength, low profile horse friendly joints and overall performance.'
Sir A.P. McCoy OBE- Championship Jockey
Otter Fencing
"I purchased from Hampton Steel because they could provide a bespoke fencing option with Hampton NET™. I provided them with my specification for Otter Fencing and they produced it quickly and exactly to my requirements. The quality is outstanding; it's been extremely easy to erect and has out performed all previous types of fencing for the exclusion of otters."
"The hinged upper section has been really beneficial. If an otter manages to scale the vertical mesh, which is difficult due to the height of the fence and size of the mesh, then this top section deters even the most intrepid of them."
"I would definitely recommend Hampton's NET™ for Otter Fencing."
Mr Allan Walker of Westlands Angling, Singleshorne in Hull
Sport and Leisure Fencing
"We wanted a fence that would not only fulfil in terms of safety for our supporters and players but also would retain its form under pressure and aesthetically be less intrusive than traditional welded mesh. Hampton NET could tick all those boxes but also exceed on durability. The FA and Calor League representatives have been to inspect the fencing as part of the ground grading process and were more than happy with both its functionality and safety attributes."
Malcolm Harris, Kettering Town Football Club.
Agricultural Fencing
"Again this year the Driffield Show and the Fencing and Landscape News Fencing Competition had the support of Hampton Steel and all around the showground evidence of their support could be seen. This year all the temporary rings were fenced utilising the Hampton Net which stood up well to all forms of livestock as well as the huge human element of 23,000 visitors kicking, leaning and standing children on it. Thanks again for the support for this years Driffield Show."
David Tite, Chief Executive - Driffield Showground Events Ltd.